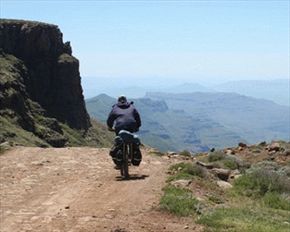 browse (1 / 4)
Come to Kwazulu Natal for an unforgettable mountain biking experience! With a diverse range of mountain biking opportunities readily available, start off at one of the many KZN Wildlife parks (ideal for the weekend getaway), with beautiful trails and scenery, and first class accommodation that will turn your mountain bike into fantastical dream of fun, adventure and long lasting holiday .
Assuming you're looking for a more regulated riding environment, just outside Durban you will find the Giba Gorge Cycle Pack, a renowned mountain biking venue for events and competitions. For the majority of riders however, the Kwazulu Natal Midlands region provides some of the most popular routes, particularly in the Karkloof area with its stunning forest trails, and the relaxing rides in the Kamber Valley. When you go to Oribi Gorge you will find that there are two mountain bike trails to choose from. The skill level of the two differs markedly, and novice readers should maybe consider doing the easy route along the gravel road as they gain more experience. Experienced riders however might find it a bit more tricky, as they ride along the rugged.
Of course, if you're looking for more distinguished ride, why not take part in the Transfrontier Mountain Bike Epic at the Sani Pass. If you feel like confronting Sani Pass in your own time and climb 1674 meters into Lesotho by yourself… no one is stopping you! Particularly since your ride will be accompanied by amazing views and a honored 'World Heritage Site', you might just as well turn it into a weekend for the whole family.