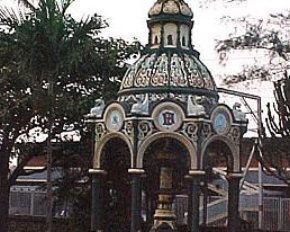 browse (1 / 2)
I think many people revel in the idea of travelling boundlessly,conquering new spheres,and discovering the previously undiscovered. Your name living on synonymous with something. A glorified jet setter if you will. I would'nt mind a beautiful piece of architecture with intricate carvings and engravings standing testament to the fact that I had lived and made some sort of impact on my surroundings. A monument is a priviledge. A monument that provides some use holds even more value.,and thus I am brought to my point, De Gamas clock.
.A memorial donated by the Portuguese government to commemorate the initial discovery of Durban as we know it today by the famous Portuguese explorer, Vasco de Gama on25th December 1498. The original name being Natal, which comes from the Portuguese word for Christmas thereby making Natal the Christmas Province. The clock marks the 400th anniversary of Vasco's arrival off Port Natal and it is set up at the point, on the Victoria Embankment.
Word was that the monument was looking a little sad and in need of restoration which the Portuguese government were equally concerned about. So hopefully all has been cared for and you'll be arriving to view a newly cared for and optimistic little monument. The monument to me resembles a little wedding chapel,but smaller,it has intricate decorative detail.and underneath is a statue of Sampson.