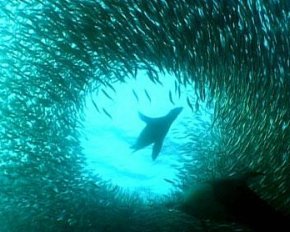 browse (1 / 3)
The Sardine Run is a annual event along the Eastern Cape and southern KwaZulu-Natal coastlines of South Africa, it attracts an abundance of sea life, including predators, this is a bonanza for scuba divers and fishermen alike. Every year, between the months of May and July, many millions of silvery sardines travel north from the cold southern Atlantic oceans off Cape Point, hugging the shore as they make their way up along the coastlines of the north Eastern Cape and KwaZulu-Natal in what is commonly known as the annual Sardine Run.
Diving on the East Coast is made even better between May and July, thanks to this event. The Sardine Run attracts approximately 25 000 dolphins, 100 000 Cape Gannets, and thousands of predators like sharks and game fish, which will follow the main shoal north. The two dive spots to note are Aliwal Shoal, 5km off the coast of Umkomaas, and Protea Banks, which is 5km offshore between Margate and Shelly Beach. Whether a seasoned diver, or whether scuba diving has always tickled your fancy and you never quite got round to trying it out, Aliwal Shoal is the place to be. Recognized as one of the top 10 dive sites in the world, Aliwal Shoal is a fossilized sand dune of sponges, as well as soft and hard corals.
It is easily accessible from Umkomaas, and the boat launches from the Mkomazi River are all part of the excitement. Ragged tooth sharks are its main attraction and the best area to spot them is at the Cathedral, a 4m arch of rock. A diverse range of marine life and similar topography to Protea Banks can be found at this site. The small town of Umkomaas is a divers' paradise and there are a number of dive charters that cater for both day visitors and tourists. Visible even by satellite, these famous sardine shoals travel in seething masses stretching for up to 20 kilometres in length, three and kilometres wide and nearly 50 metres deep.
The Sardine Run is a spectacle in itself, but add to this, hundreds of predators arriving en mass to partake in a feeding frenzy. This is a excellent spot to intersect the sardine run.
Aside from scuba diving, the South Coast and the Wild Coast have a wide range of activities for visitors, in the unlikely event that sea conditions are not favorable. There are a number of nature reserves on the South Coast, including the Empisini and the Vernon Crookes nature reserves near Umkomaas, and the Dlangala wildlife sanctuary in the Umkomaas Valley. Activities include hiking, canoeing, kayaking and white water rafting, rock climbing and abseiling, 4x4 trails, horse riding, fishing and of course, game viewing.