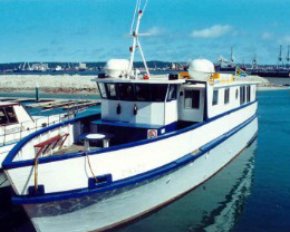 browse (1 / 3)
The port of Durban is the ninth largest harbour in the world and has become Africa's busiest general cargo port and container terminal in the Southern Hemisphere. It is also a stopover for Cruise Liners and has become increasingly popular as a holiday resort for foreign Yachts.
It is said that Vasco da Gama sighted the Bay on Christmas Day, 1497, when he anchored off the Bluff, and named the lush green land, Natal as a mark of respect for the Nativity, the entrance to the bay was called Rio-de-Natal. British colonization began in 1824, and named the settlement Port Natal. This was renamed Durban in 1835 after Sir Benjamin D'Urban, the then governor of the Cape Colony. Today, the province is known as KwaZulu Natal, with the town of Durban and harbour its main centre.
Surrounded by sugar cane fields and sub-tropical vegetation of an amazing range of plants, trees and flowers not found in other parts of South Africa, Metropolitan Durban, the largest and most vibrant Sunshine City of South Africa, a true rainbow nation of British colonialism, Indian and Zulu Cultures, is a modern city with wide streets, tall office and apartment blocks and many parks and gardens. A real holiday paradise, with warm beaches lined by hotels and apartments with great views over the ocean.
Durban harbour is fed by several streams. There are two piers at its mouth - the Point to the north, at the far end of the Golden Mile which is the Durban beachfront lined with hotels, and the Bluff to the south, a range of green clad hills, that provides protection from ocean winds and separates the sea from Durban Bay.
Visitors arriving or leaving by boat have uninterrupted views across the central city up to the residential Berea Ridge with its flowering trees in all the colours of the rainbow when proceeding through a narrow channel of the harbour between the piers and against the green backdrop of the Bluff.
The sea plays an important part in this region, with three marinas for yachting purposes - the main marina opposite the Esplanade, served by the Point Yacht Club and Royal Natal Yacht Club, the Wilson's Wharf marina used predominantly by motor craft and the Bluff Yacht Club facility in the Silt Canal near Bayhead. A large number of other recreational activities take place in Durban Bay including canoeing and kayaking, parasailing, fishing from boats and bird watching in the mangrove swamps, which is a world heritage site.