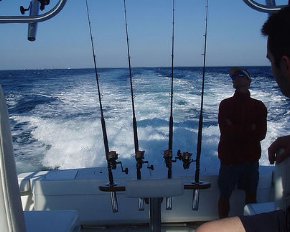 browse (1 / 5)
Its a great afternoon, the suns out, the miss is nagging and doing your head in. So you gather your troupes via a couple of short phonecalls and excuse yourself for a tame afternoon of fishing with the boys.
What the ladies wont understand is that this is a male bonding/commradery session of note, a nice yacht, some sunscreen, warm clothes, lots of liquid and pills [just in case you get the dreaded sea sickness or better yet the preventative pill] obviously your 'fishing' equipment and donít forget your six pack of ice cold beers.
Think the river runs through it, only a upgraded, mid sea version. You and your men going out to sea, great music blaring from your super cool yacht [hired or rented] will do just as nicely,[be prepared for petrol costs, they can be wicked]. Mid sea, there you are ,wind through your hair, feeling relaxed ,light hearted banter and the competitive streak kicks in, who's going to be the first to catch something? who will catch the most? who will catch the rarest fish? or the biggest? As the afternoon drifts on, the fun and talks will continue, maybe getting deeper [or depending on alcohol consumption] lose all meaning and drift into light hearted silliness. By the time you return to shore all will be forgiven, all will have settled into perspective, you'll have something great to make for dinner.
Maybe you'll even spot a Coelacanth who knows. The possibilities are endless.