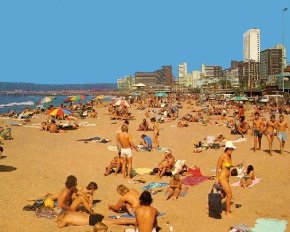 browse (1 / 2)
Summer has come and you want to hit the beach, along with all the other beach bums. Lie in the sun,soak up the rays, get that brazilian tan [use sunscreen though] drink lots of liquids. But as you're lying there mid sun-bask you realise that you are boiling hot and damn sweaty,what else could there possibly be that would rejuvinate like a swim in the sea?Nothing! You get to cool down while incorporating a little excercise, plus I heard that cold water is great for the circulation. So dip in ladies. Durban is situated on the East Coast of Africa next to the Indian Ocean, which the Europeans will be happy to know is warm all year round due to its subtropical climate.
The beaches in Durban are perfect for swimming and relaxing. The water by contrast is warm and is a favourite spot for the surfing crew who like to frequent the place in search of great waves. Both North and South beach are ideal for swimming as the water is protected from sharks. If you get there on a good day you might even be swimming with a friendly dolphin. Aha. you heard it here first.
P.S. ,you should also check out the activities on the beach promenade known as 'Golden Mile', there you'll find loads of hotels, pubs and bars.
These are the Blue Flag beaches in Durban
Hibberdene Beach, south coast
Margate Beach, south coast
Marina/San Lameer Beach, south coast
Ramsgate Beach, south coast