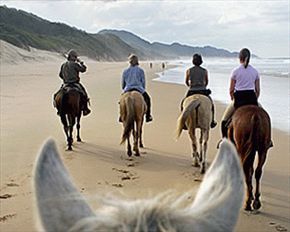 browse (1 / 4)
Horseriding on the beach is an activity that is unrivalled in its scope and beauty. Whether you're a novice who is saddling up for the first time, or an 'old hand' wanting to plough through the breaking waves, come to the Kwazulu-Natal coastal region and experience a wonderful horseride along the beach.
From the very edge of the Indian Ocean to the lengthy shores of the St Lucia Estuary, there are many things to discover on every ride you take. As your guides take you through along Iphiva Beach at the northern end of St Lucia, you'll have kilometers upon kilometers of sand to trounce upon as you ride alongside a tranquil Indian Ocean. During the whale season you'll see humpbacks whales breach out in the deeper water towards fertile breeding grounds in Mozambique, and look out for turtle tracks along the sand as you and your horse run over high dunes and warm sea water. See dolphins play only a 100 meters away with the undulating waves, and surf in synchronized fashion in pure harmony and bliss.
According to the tide (which should preferably be low), we can ride on the hard sand so not to damage the delicate ecosystem of the region. After all, we're all dependent on nature, so do our best to protect the beautiful Kwazulu-Natal coastline as you and your horse move along the sandy beaches. A great thrill, a great ride, and possibly one of the best things you can do whilst in the province.