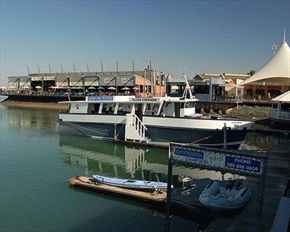 browse (1 / 4)
There are few places in the world like Wilson's Wharf. With its splendid harbour, top class cuisine, grand shows and artistic crafts, this trendy seaside front blends the rustic interface of a boating marina with working slipways in an authentic manner that is well-liked and appreciated by locals and tourists alike.
In the waterfront you will find everything from fast-food courts to fancy restaurants with delicate food and fine dining, from international cuisine to an old-school oyster bar, back to some harbor cruise dining to a relaxed coffee bar, with a joyous pub atmosphere always lurking in the backdrop. And donít think the place is too Ďtouristyí. In fact, itís the locals who come here the most. At the Wilson's Wharfside Mall you will find shops that consist of multitude of quality crafts for the adventurous shopper, and even if speciality items is your thing Ė be prepared for some rare article and goods. You can also sit back and relax at the 165 seat theatre, bringing you all the greatest shows for next to nothing, and a wonderful way to end of an evening.
The Marina provides regular deep-sea fishing from where visitors can take their selected pick at affordable rates, whether being a full-sized tuna, or even an array of seafood at the wharf-side fresh fish market. So come down and spend some time at Wilsonís Wharf. Itís a great place to dine with family and friends, and for serious fine-eyed shoppers, this is the place to be.