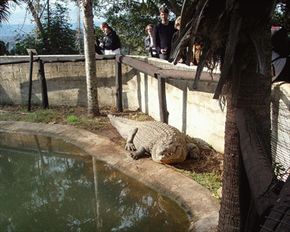 browse (1 / 4)
Remember: Crocodiles are only dangerous when they bite! And if you come visit some of the most distinguished croc farms that are located throughout the Kwazulu-Natal province, be sure to stay at armís length, and see how these amazing pre-historic creatures subside in a natural yet extremely close-up environment.
At the Riverbend Crocodile Farm you will find more than 200 adult nile crocodiles as well as numerous other juveniles who come in different shapes and sizes. The beauty of the farms is that tourists are able to see the crocodiles function in their natural habitat, whilst the skillfully landscaped breeding enclosures not offer some high-octane crocs, but a variety of different kinds of bird species as well. For those in search of more information on crocodiles, the farm also provides an up-to-date education centre, giving you detailed information related to crocodile biology. Audio and video presentation also illustrates the life cycle of crocodiles and snakes (did I mention snakes?), and of course, you will always have experienced guides offering the best advice and information on anything relating to crocodiles and other reptile species.
The crocodiles at the Riverbend Crocodile Farm get fed weekly on Sundays at 15h00 where the crocs put a not-to-be-missed eating festival, whilst smaller snacks are presented to the reptiles on weekdays. If youíre looking for crocodile extravaganza, Crocodile Creek may be your best option, as it is the home to some 9,000 crocodiles. The farms also hosts a number of snakes, monkeys, alligators and leguaans.