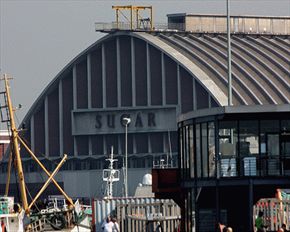 browse (1 / 3)
The province of Kwazulu-Natal is rich and diverse in terms of its offering to visitors, but one thing is for sure: you havenít been to Kwazulu-Natal if you havenít visited the Sugar Terminal at the western end of the Durban bay. This place is stunning. Here youíll see three enormous silos that can hold as much as 500,000 tons of refined sugar, a truly colossal sight for any first-time visitor.
It is worth noting that the South African sugar trade is one of the world's leading price competitive producers of high-quality sugar. It is a very varied industry that combines the agricultural activities of sugarcane agriculture with the industrial factory production of raw and refined sugar, specialized sugars and a range of other by-products. The Sugar Terminal at the Durban Bay is one of the largest in the world, and with guided tours offered by the South African Sugar Association through this gigantic complex, as well as informative films about the sugar production, youíll get your moneys worth (if only for the sake of being surrounded by tons of sugar!)
At the Sugar Terminal, sugar from the silos is loaded onto cargo ships and then transported from Durban's harbor to destinations all over the world. Take the guided tour and see this splendid terminal with your own eyes. Remember: sugar is to Durban what gold is to Johannesburg! Note that tours are offered from Monday Ė Friday from 8:30 am-4:30 pm. Donít miss it.