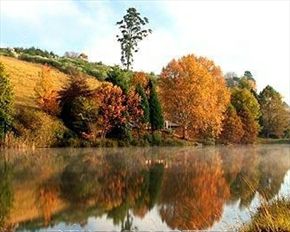 browse (1 / 9)
Come and indulge, explore and dream amidst the warm-hearted people and gentle rolling hills of the Natal Midlands. The Midlands Meander is a route that has been established in the East between the country city of Pietermaritzburg and the west by the majestic uKhahlamba Drakensberg mighty mountain range (a fantastic World Heritage Site), in the beautiful uMgungundlovu district, just one of the eight regions of the famous 'Zulu Kingdom'.
The Midlands Meander route is also a place where water sport lovers congregate at the hugely popular Midmar Dam. Here you'll see people swimming, windsurfing, sailing, boating, canoeing, and who knows what more. Competitions and events are held there regularly, so check your local itinerary and let your visit coincide with a special Midmar event. There are also many historical buildings in this region that date as far back as 1880. National Monuments are here in abundance, including the well-preserved Settler Churches. Monuments such as the Natal Railway Museum, the Goodman Household monument and the commemoration wall (where President Nelson Mandela was arrested and later sent to Robben Island) can also be seen. Accommodation in the Midlands Meander is not a problem. If you feel adventurous, why not spend a night in a tree house surrounded by wildlife in a nature reserve, or relax at one of the old town hotels, or nestle around a fire in a cave in the mountains. Do a bed and breakfast at a wildlife lodge. Just make your stay as unforgettable as you can afford it, since this majestic region certainly deserves it.
The Natal Midlands, where life is lived gently, forests and farmlands are inhabited by interesting characters who take the time to chat to strangers at the trading store. Gather inspiration or purchase original art from the local world-class crafters, savour new flavours, enjoy gracious hospitality and celebrate the most memorable moments.