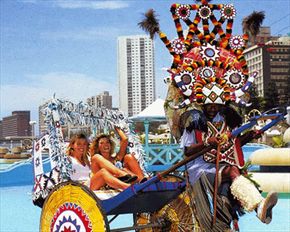 browse (1 / 4)
Rickshaws were brought into the KwaZulu-Natal province in 1893 by Sir Marshall Campbell (a sugar magnate) to provide comfortable transport for his wife. Today, this situation has changed dramatically as rickshaws are run by the Zulu population and incorporated into their culture, and caters specifically to tourists.
There are only about twenty registered rickshaw-pullers in Durban, and trust me, not only do they look apart, they will treat you like a true king visiting from abroad, just as visiting tourists should be treated. Watch out for the magnificent but extremely heavy head-dresses of these rickshaw men, with its beads and other decorations. So be gentle on the rickshaw, and be gentle on those who pull them. Riding on a rickshaw along the beachfront is a wonderful way to get around and feel like a real tourist in Durban. The Rickshaws have through time become very popular, and is currently being run by the Zulul population. Along the rickshaw front, expect to locals strutting their hand-made goods, all whilst you go 'tuk-tuk' on the three-wheel rickshaw through 6 kilometres of beautiful Durban beachfront.
In the beginning of the 20th century, there were more 2,000 rickshaw-pullesr operating in Durban, where they mostly acted as a way of everyday transport. Today, rickshaws are only a landmark of the past, and are used entirely as a tourist exhibition. Nevertheless, a ride in one of man-drawn carriages through the magnificent beachfront is a true delight with children and adults alike.