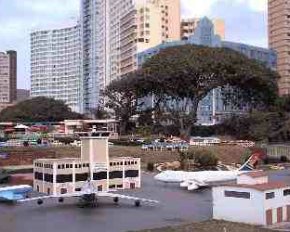 browse (1 / 4)
Mini Town is a landmark and an asset to Durban, Mini town is a miniature city replicating Durban situated on the beach front. Its is fun to view this knee high replica of Durban and makes a great a family outing. Durban has really upped its fun stakes with mini town, its a venue that kids will enjoy. It almost looks like a little toy land, as the miniature trains and planes move around the kids will be amazed and excited. There is even a miniature harbour with ships, as well as an airport.
The first model was completed in 1963, Minitown is a miniature city with replica's of some of Durban's well-known buildings and all the models were made in Minitown itself. Its amazing to see all the tiny details and effort that was put in to collaborating Minitown.
Minitown is for the young at heart, and makes an excellent family outing so if you are looking to impress you little ones.