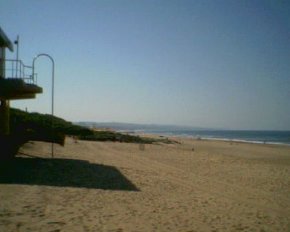 browse (1 / 6)
The Golden Mile is one of the main tourist attractions in Durban. With loads of surrounding activities.
By definition the infamous Golden Mile is a stretch of beach with golden sands from flowing from Vetchies Pier in the South, to the recently constructed Suncoast Casino and Entertainment world in the North. Allowing the sungoers many lavish locations to lay their bronzed bodies, play games and check out the nearby restaurants.
You'll meet people from a bunch of different cultural backgrounds, hear the buskers serenading all from the sidewalk, see the children feeding the pigeons and have a wild array of aromas to remember, from the surf wax to 'bunny chow'.
If you are in the mood to survey the surrounding area then take the popular self-guided walk known as the Golden Mile or the Golden 6km.It received its name from the Portuguese explorers who referred to the sea sand along the coast in this area as the 'Sands of Gold'.