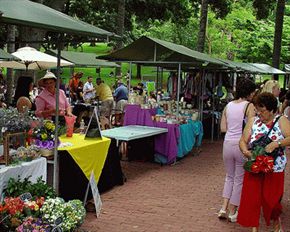 browse (1 / 4)
The Victoria Street Market is situated at the corner of Queen and Victoria Streets in Durban. The flea market is brilliant and unique, providing you a taste of different worlds, one Indian, and one distinctly African. Enjoy the variety of spices and incense rent in the air, with more than 170 shops on display on a daily basis.
The 'Vic', as the Victoria Market is now known, is situated in a large building that resembles somewhat of a Maharajah's story. Get familiar with the colour, smells, material and bartering that is so characteristic of this Indian community. And if you're looking for more than just food, you can buy saris, scarves, arts and crafts, woven baskets, beaded dolls and animals, oriental ceramics, even Chinese wholesale goods. If you want to experience something even more Indian in Durban, walk a little further down to Grey Street, which is the cultural heart of the Indian community. Here you'll see distinct Indian architecture still prevailing, and with its tight lanes, colonnades over pavements and an onslaught of material shops – you'll begin to understand as to why Grey Street was formerly known as clothing mecca.
Another charming flea market is the Essenwood Market in Durban. Here you will find the ideal blend of fashion, food, art and entertainment. Take time out as you walk through the 220 stalls, where you can shop till you drop and enjoy the cool shade of the above Canopy trees. The Essenwood is fun for the whole family, so why not have your picnic here, and have a great African flea market experience.